Choose a plan that best suits your business needs. Enjoy instant access with our 30-day free trial POS software.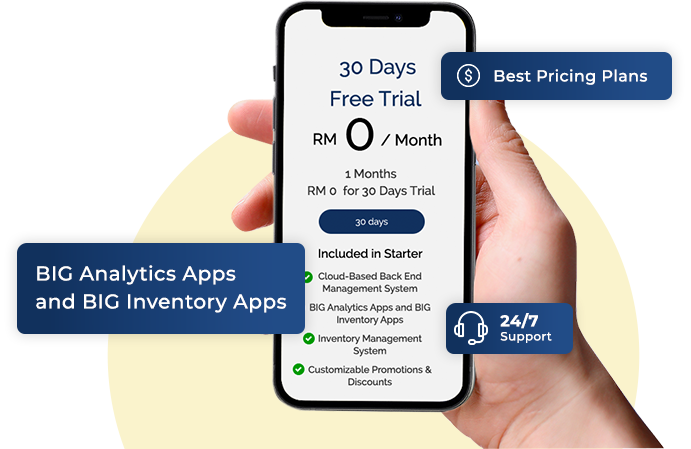 The Ideal Pricing Plans For You
BIG POS's innovative features eliminate pricey setup and training while staying simple and cost-effective
to help SME and small businesses alike.
RM 0 /month
1 Month
RM 0  for 30 Days Trial
RM 99/month
12 Months
RM 1188 Billed Annually
RM 188/month
12 Months
RM 2256 Billed Annually
Accessible features based on selected POS system version


Frequently Asked Questions
If you have any more inquiries, don't hesitate to contact us!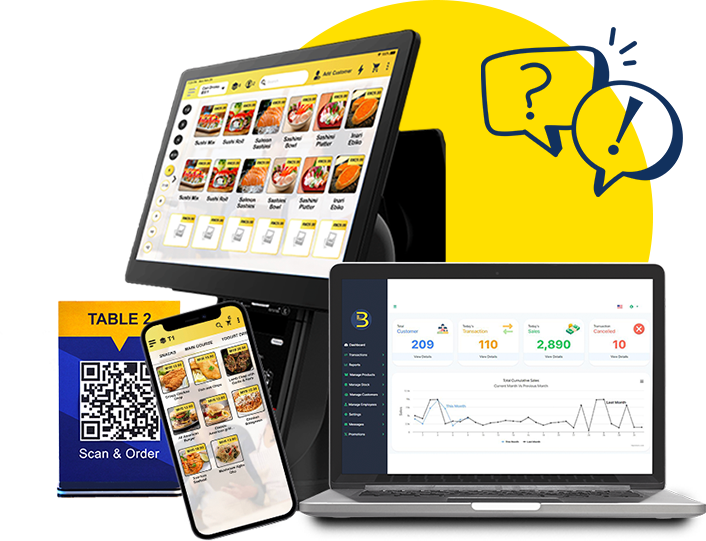 Why Should You Use Our Solution?
With our solutions, you can operate your business with slick gadgets and a customizable website that looks great and feels great to use. It's a win-win for both your employees and your clients.

Get Your Report Anytime Anywhere
Wherever you are, you can view your real-time report easily through any mobile devices. Moreover, BIG POS can help to identify your business "BEST SELLING" products to optimize yourbusiness sales performance.

Stocks and Inventory Management
Through BIG POS, the users can get unlimited transactions and unlimited inventory space. Apart from that, the system will restock your inventory directly by ordering via BIG POS backend office.



Offline Working Mode.

BIG POS is a system that can work efficiently offline. Even if you face internet disruption, you only need one step, after you reconnect to the Internet, sync your device and you can continue to operate your business



Simple & Fast Setup

You can get your point of sale system setup and start the business operations in a short time with our personalized assistance 24 hours support system.





Manage Employee Performance
You can easily view employee daily activities and performance within the system. Allowing you to know the employee's daily duty schedule and rearrange tasks without hassle.


Why Should You Choose BIG POS?
You are the beginning of our narrative. BIG POS was made to help businesses in the retail, services, and food and beverage industries. We want to help owners change the status quo, not keep it. It's easier for businesses to run more efficiently and quickly when they use one simple platform. A side job or a full-blown business, we can help.