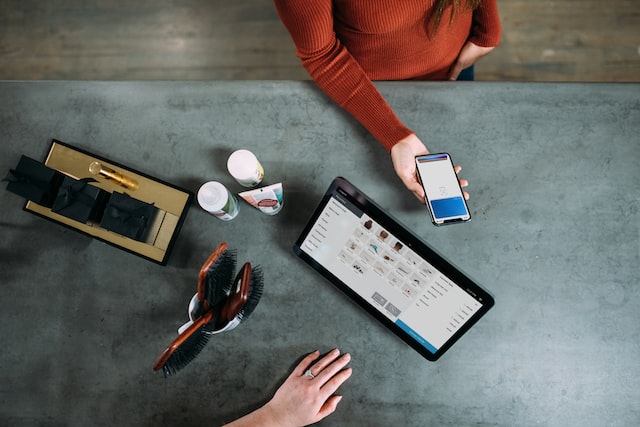 Streamline Your Restaurant Services using a Mobile POS System in Malaysia
Smart POS Machine is a new concept product compared to traditional POS. Its main functions are to track and monitor sales report, manage inventory/stock, manage multiple outlets in one platform and so on. The advent of BIG POS machines has greatly increased various types of credit card payments, especially those used in food and beverage outlets, large shopping centers, clothing stores, logistics industry, mobile vendors, beauty salons, royal offices, department stores and other industries in our BIGPOS System. Here are three strategies that operators can use to shorten wait times, improve customer satisfaction, and boost sales:
Give servers the ability to accept orders from anywhere.
When the counters are crowded, customers can use QR Menu Ordering to place orders. Mobile point of sale system in real time synchronization system to continuously collect all information, so they can take orders wherever they are and serve clients quickly and effectively. In addition, mobile POS keeps the lines of communication open between the server, kitchen and bar so that everyone can get instant updates when a dish is ready to be picked up or when a dish is finished. Or customers can use an alternative application, namely the BIG Waiter App which allow waiters to connect to main POS system with their personal/work smartphone to take orders.
Allow for simpler methods of paying the bill
Lining up to pay delays other customers from placing their orders when customers are ready to settle their accounts, which increases the likelihood that they may become upset and leave. Customers can pay when they finish ordering what they want to eat and can directly pay online for example via grabpay and touch n go. So they can pay directly without queuing at the checkout and customers can get out of the restaurant directly.
Higher job satisfaction
Sending orders back to the kitchen and bar is made simpler for servers using a BIGPOS thanks to the user-friendly UI. Additionally, it removes the necessity for carrying order pads and pencils, lessens foot traffic, and clears congestion.
A reliable restaurant POS system is the difference between a coffee shop and a restaurant that feels like a disorganized open market where customers enjoy the convenience of ordering remotely from their mobile phone.
As you can see by now, the modern restaurant business is more than just dining. In other words, your success depends not only on the type of dishes you offer to your customers, but also on your mobile inventory management system malaysia.
And that's where POS systems for restaurants come in. This is the only app you need at a food truck, coffee shop, fast food outlet, or restaurant to coordinate the entire business. In addition to inventory management, you should be able to coordinate customer orders, process payments, track all restaurant elements, and even manage your staff from the point of sale system.
Here are five strategies to train your restaurant to utilize a new POS efficiently if you are thinking about switching or have already done so:
Train staff directly on the new POS system
To aid store personnel in becoming familiar with their systems, many POS vendors include video lectures and illustrated product documentation. Consider training to carry out a credit card purchase. Although a step-by-step video instruction may offer a helpful overview of the procedure, many people discover that carrying out the procedure themselves is a much more effective approach to learn.
Give staff access to historical POS data
Some retail personnel may be concerned that they may lose access to past sales data, customer profiles, and other crucial information even if a new POS system is simpler to use than a store's existing system. Assure employees that the new POS system will import all of their customer and sales data from the previous one.
Complete some real transactions
Many businesses give their personnel the chance to test out some transactions on the new POS system after the system has been installed and old sales data has been imported. This often entails regular procedures like handling refunds and exchanges or making a transaction utilizing a variety of payment methods.
Give employees enough time to acclimate
Both switching to a new POS system and teaching store personnel how to use it can be difficult. The less time staff has to get accustomed to the new POS and learn how to use it, the greater the likelihood that mistakes will be made when the system goes live.
Allow adequate time for training so that workers may acquire the muscle memory needed to use common features and complete activities. The more time employees spend practicing completing transactions and utilizing a new technology and workflow, the more at ease they'll likely be in actual consumer interactions. This results in quicker, easier transactions, fewer errors, and contented customers.
Features in POS BIG POS
BIG POS has an business reporting system which collects all data every day, and also analyzes and reports information.
The BIG POS employee management system provides assistance by speeding up work for employees. Not only that, BIG POS System can give access to business owner to monitor and track staff's performance. Last but not least, it also provides analysis and sales data in real time. As a bonus, this management system also takes employee attendance and attendance report for your employee.
This system has a responsive cloud system that is very efficient in data backup, not only that, BIG POS also has other systems such as Unified E-payment Solution, Promotion Management and Customer Loyalty Program, Smart QR Menu Ordering System to make it easier to interact with customers.
Conclusion
In conclusion, beyond taking inventory, monitoring what you need to buy less from more of, for that object managing inventory can save your company time and money. Additionally, QR Menu ordering using a POS system can increase sales while saving you and your customers a lot of time.
With so many systems and features, of course it still has weaknesses. If one day the Internet has a mess or goes down, BIG POS is able to work without internet and the data can be sync-ed again once connection is established. That's why we need to use mobile pos system malaysia.
---