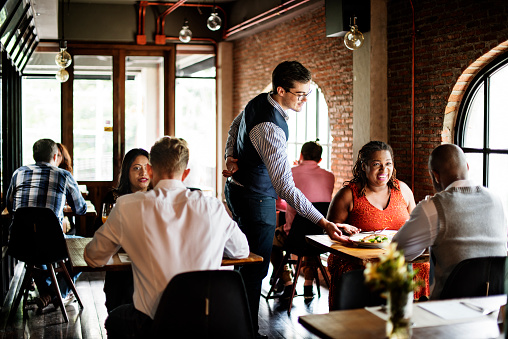 5 Tips To Improve Your Restaurant Operation
Streamlining your restaurant's everyday operation is more crucial than ever for the success of your business. Restaurant owners around the country have been compelled to adapt to new business models, in order to continue servicing customers during these extraordinary times.
All aspects of a restaurant's everyday management are included in the operation process. Staff members undertake important roles and positions that enable the restaurant to run and meet the demands of its customers.
The restaurant industry has seen a lot of disruption in the past years. The appearance of the COVID-19 pandemic has provided a number of opportunities for restaurants to fine-tune their processes, and increase the efficiency of their restaurant operation using a point-of-sale (POS) system.
The benefits of improving your restaurant operation include lowering costs and expenses, increasing revenue, and enhancing customer experience.
What Does "Restaurant Operation" Involves?
Restaurants are made up of various individual elements that work together to successfully operate. Besides having great dishes that catch attention, restaurant operation involves everything from food ordering and preparations to serving the meals to the customers.
To leave a pleasant and positive impression on your customers, cleanliness is also an important element of restaurant operation that every restaurant should pay more attention to.
By understanding each element of restaurant operation thoroughly, we can meet the demands of each customer and reduce any possible mistakes to ensure a successful business operation.
Ordering & Purchasing
The food purchasing procedure is one of the elements that you need to pay attention to as a restaurant owner. Purchasing your food stock can be a challenging thing to do.
A restaurant's food purchasing procedure involves where to source the food ingredients, what types of ingredients to purchase, and how to properly store the food after purchasing it.
Choosing the right product, keeping track of the food inventory that is available in your restaurant, and how long the stock will last is an important part of the restaurant purchasing process.
Food Preparation
The techniques and processes applied by kitchen staff to prepare the food are one of the most important parts of restaurant operation. The chef will usually take the lead in the kitchen and assist the other kitchen staff.
The chef is also responsible for developing meal plans, regulating the recipes, modify the recipes for customers in consideration of dietary constraints and food allergies. Implementing the right preparation system improves the efficiency of kitchen activities.
When a customer places an order for a dish, an efficient restaurant operation will have clear expectations on the time required to prepare meals and when to prepare some ingredients ahead of time, all the way to cleaning up the tables when the time for service is up. This is a crucial element that every restaurant can improve to achieve better customer service.
Restaurant Service
A successful restaurant service includes engaging with customers and dealing with their demands appropriately. The term "service" refers to any aspect of a restaurant's business operation that involves the customers in it. To ensure a positive experience as expected by your customers, high-quality customer service is crucial for your restaurant.
Providing a great service to your customers means your service staff should follow certain etiquette rules to improve their interactions. Not only should you pay attention to the food that you are going to serve to your customers, but also the attitude and behaviors towards your customers.
Cleanliness
In order to ensure an efficient operation, restaurants must also establish cleaning schedules and processes. To avoid suspended licenses or issues relating to health and hygiene, restaurant owners must follow certain industry standards and regulations.
The cleanliness of a restaurant is frequently taken care of by restaurant owners, managers, chefs, and all staff as it is important for everyone to be accountable for maintaining a clean environment for their restaurant.
How to Improve Your Restaurant Operation
1. Organize your table layout
The method of organizing your restaurant's table layout will have a significant impact on how smooth and efficient it runs. Making sure that the layout and the floorplan complement your restaurant's theme and strategy is important. This is because your restaurant operation will be carried out effectively based on the layout of your restaurant.
2. Optimize your food & beverage menu
Optimizing your food and beverage menu will help to create a positive first impression. You might want to present a variety of dishes from different countries as your marketing strategy. You can also choose to optimize your restaurant's menu by setting the limit of your food and beverage menu, and concentrating on upselling your bestseller meals.
Customers will usually be drawn to your business because of its options and availability. They will be inclined to return to your restaurant if the food, beverages, and customer service have exceeded their expectations.
3. Automate customer payment process
With the advancement of technology nowadays, contactless payment technologies have become highly desirable in the restaurant industry. Restaurant online payment system in Malaysia such as GrabPay, ShopeePay, and TouchnGo E-Wallet have become prominent payment methods since the appearance of the COVID-19 pandemic.
Among all the payment technologies available, one to keep a close eye on is the QR code payment solution. By effectively implementing QR code online payment, businesses can effectively improve and scale their restaurant operation and customer service.
4. Track your operation with the POS system
The point-of-sale (POS) system is able to keep track of your restaurant's inventory, automated online menu, meal orders, checkout payments, as well as customer feedback.
The establishment of a POS system for your restaurant will increase your business revenue, and improve customer service while reducing the little frustrations that the customers may experience.
For starters, our pos terminal machine in Malaysia will help your restaurant to process online payments more efficiently and smoothly.
5. Provide periodical training to your staff
When it comes to maintaining an efficient restaurant operation, making sure your staff is well equipped and trained will provide a long-term return on investment.
Ensure that they receive adequate and constant training to have a thorough understanding and knowledge of your restaurant operation.
Staffs who have been adequately trained are less prone to make mistakes. Therefore, your restaurant will have a better operational flow and thus lead to better business results.
Improve Your Operation With POS System
If you are looking for a reliable POS system to help you operate your restaurant effectively, get your free trial for a restaurant pos system in Malaysia with BIG POS today.
---